Why Preventing from Covid-19 is important
You may not have symptoms, you can still spread the virus, it has a longer incubation time, you may get sicker, faster. It can stay alive in the air, you may be very contagious, your nose & mouth are susceptible, it may travel through the body faster
Why Partition Walls?
Efforts to slow the spread of Covid-19 around Malaysia have led to protective measures such as social distancing, face masks, and hand sanitizer. Another safety precaution that is quickly becoming a normal sight in public areas are partition walls, which also known as sneeze guards.
Partition walls can prevent the spread of germs by acting as a physical barrier that stops germs from reaching beyond the glass. They can lower the risk of infection through airborne droplets. Obviously, partition walls are gradually becoming a staple in public spaces as an easy way to protect people and enforce space boundaries. In fact, Google recorded a 200% increase in search for partition walls as people seek out additional safeguards.
And now, AFN Resources is here to protect you and bring safety awareness in today's world. We understand that some businesses must remain open during this terrifying time. While businesses are undertaking many safeguards to protect employees and customers alike, a partition wall is a safer alternative that all parties will be sure to appreciate. Our partition walls help maintain social distancing rules and reinforce public health practices. 
Variety of Applications (Where are Partition Walls Used?)
1) Education Center (University, College, Tuition Center, Library, Training Center)
Schools, universities, and colleges will have a big chance to reopen on the end of June or July. These partition walls are a critical form allowing school, university and college campuses to reopen safely.
Among specific suggestions, it is recommended to install partition walls in places where it is difficult for individuals to maintain physical distance, especially in classrooms, dining halls and libraries. It is also recommended to add partition walls between beds and bathroom sinks when the physical distance is too short.
The partition walls can be used as desk dividers, by placing them on the desks, to separate each other as a precautionary measure against the spread of Covid-19, as they are meant to block how far virus-carrying droplets can travel from talking, coughing or sneezing. Some schools in China and Taiwan have attached partition walls to school desks or cafeteria tables. The result resembles a cubicle.
2) Restaurant and Eateries
Restaurants and eateries that are approved to operate will have to follow a few guidelines:
- Tables will have to be placed at least 2 meters away from the other.
- Customers will need to be notified when it comes to the number of people allowed at a table.
- To ensure a distance of one meter between each customer lining up to pay at the counter, line restrictions will have to be drawn on the floor.
If the minimum distance can't be ensured, partition walls can be installed.
Partition walls are mandatory in restaurants and eateries to protect and prevent food contamination. Now, they are in demand to create a barrier between the employees and customers to help minimize the spread of germs and airborne illnesses, such as Covid-19.
When paying for items at a checkout counter or reception desk, partition walls are recommended to meet statutory requirements as it is a workplace with direct customer contact. This added layer of protection minimizes contamination and convey a message that you are taking the necessary precautions to protect everyone involved. 
3) Factory Office
According to the guidelines, jointly used workspace must be modified so that persons can keep a minimum distance of one meter to each other. This may be achieved by access restrictions or markings. If the minimum distance can't be ensured, partition walls are recommended.
If you're a business owner, incorporating partition walls into your work environment is a great way to protect your employees from airborne bacteria and germs spread through sneezing or coughing.
Besides, in an open-office work environment, partition walls can be installed between office cubicles to build and extend the wall height between workers for physical distancing, as well as insulate against noise to create a quieter workspace and block damaging ultraviolet rays to prevent interior decor from fading.
4) Canteen
Most likely to "Restaurants and Eateries".
Our Products


Acrylic, Polystyrene and Poly-carbonate are durable, lightweight, and more impact resistant than glass while retaining similar optical qualities. Opaque materials such as Polypropylene can be used for temporary shelters. These walls can be easily cleaned and sanitized. They are also easy to use and install. AFN Resources stocks Acrylic, Polypropylene, Polystyrene and Poly-carbonate in a variety of sizes and thicknesses to help safeguard your business.
Basic Design (Product Models)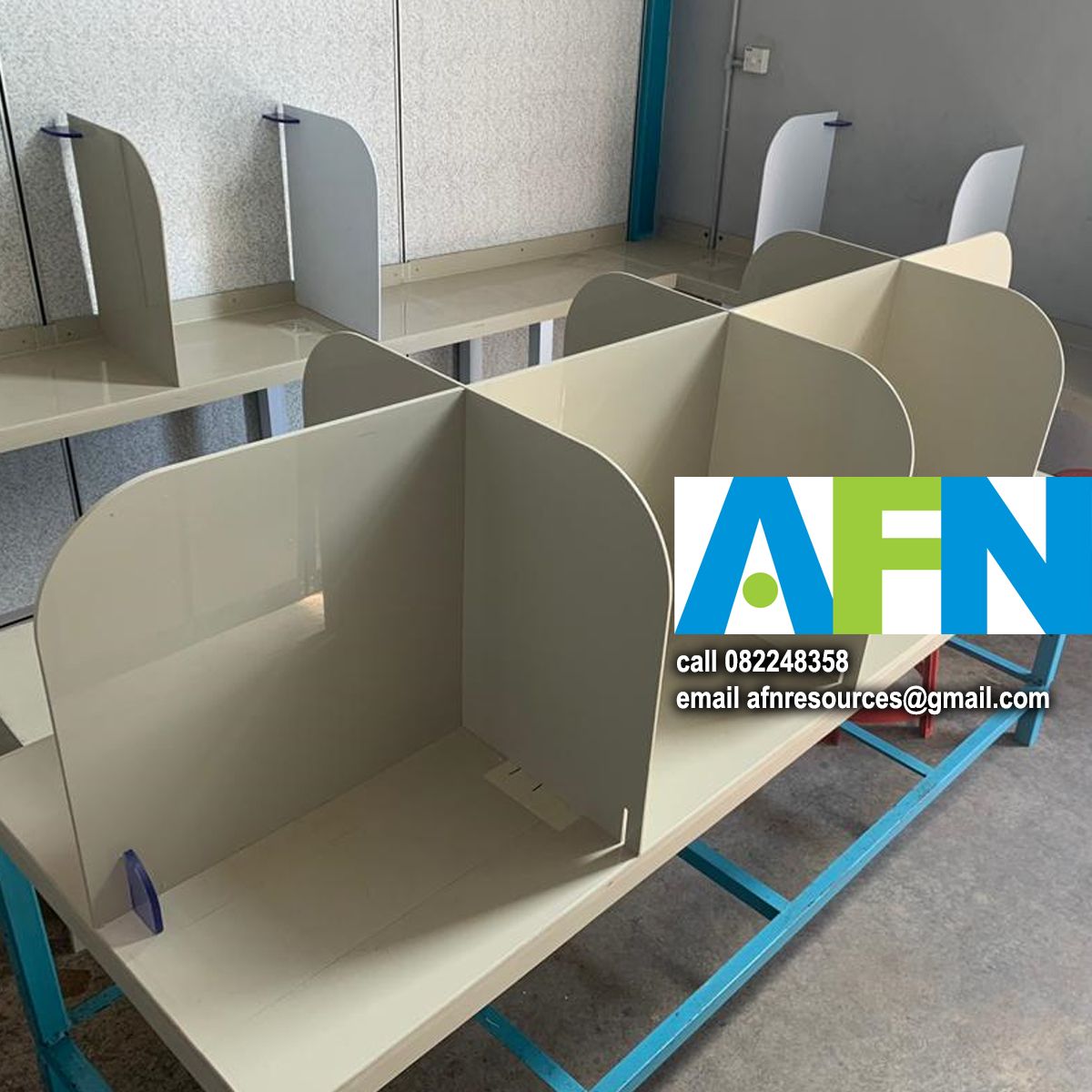 Customize Size and Design
Not seeing the size and design you need? Custom sizes and designs are available upon request. We offer the possibility to have special designs developed and produced by us. We also consult and install for your custom needs.
Contact Us
To learn more, please explore our Facebook page. We strive to provide customers with quality products. For further assistance, feel free to contact us
Tel : 082-248358 email : sales@meinfomedia.com
 "Take care of you and your loved ones."