Sape'Times is an initiative platform by Kelab Belai Uma Akeh (KEBUMA) and strategic partners which aim for youths to discover more about Sape' music and participate in Sape' events. The first event from Sape'Times which was the Online Sape' Competition 2021 was held on the 1st November 2021 and the final round on 23rd December 2021. On the 13th of January, an Award Ceremony for the Sape'Times Online Sape' Competition 2021 organised by KEBUMA was held in Dynasty Hotel, Miri to award and acknowledge the talented winners. The ceremony started at 2 pm in the afternoon at Dynasty 4 hall.
For the event, YBhg. PS Charles Balan Seling was invited as the Guest of Honour and to officiate the event. Also present during the ceremony, was Mr Awang Putrayusrie bin Awang Redzuan, Pemangku Ketua Pegawai Eksekutif Majlis Seni Sarawak (MSS), Mr Spanski Steven, President of KEBUMA. Representatives from the strategic partners Miri Sape' Movement and ME Info Media Sdn Bhd were present as well. The judges for the competition who were present are Garry Yee, Aaron Alan and Stephen Kayang.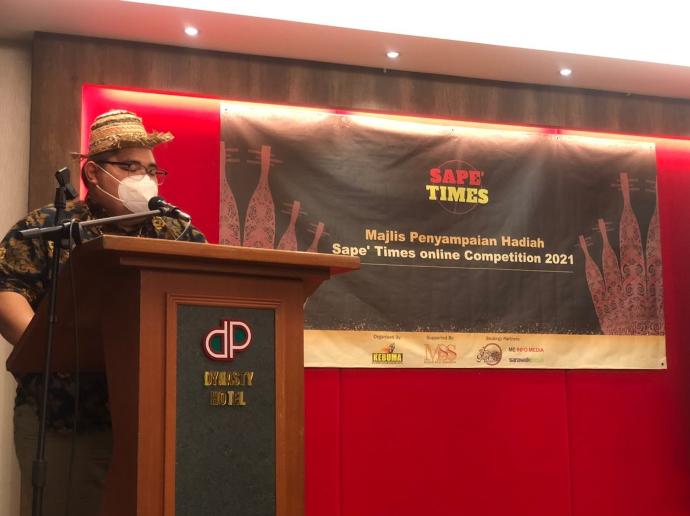 President of KEBUMA, Mr Spanski Steven giving his opening speech
In Mr Spanski Steven's opening speech, he commended the youth for participating in the online competition and he aspire for the competition to be carried out to an international level next. He also hopes that this competition were able to discover new talents and promote the Sape' music community. He is also looking forward to the possibility of an International Online Sape' competition in 2022. This is to promote Sarawak Sape' music and put it in a global field for international participants to join.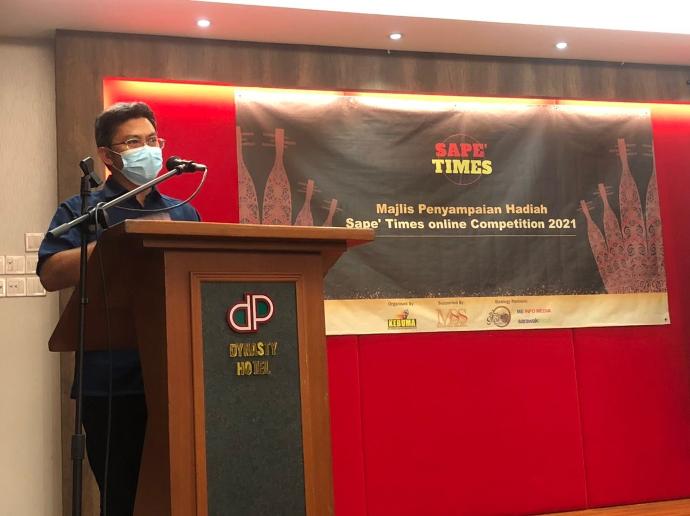 Mr Awang Putrayusrie bin Awang Redzuan giving his opening speech
The champion for the competition was duo Maxwell Jalong and Anugra Gun, second place was duo Robert Lenjau Lucas and Azron Engan John and third place goes to Carlvin Donnet Rubin. The five winners for consolation prizes were Gilbert Erang John, Shawn Finian Wong, Brennand Schwarzneger, Ernest Vanemann Ak Amut and duo Ferderick Maldini Disen and Hayree Ak Hashim. They have shown outstanding performance and effort throughout the competition.
Overall, the Sape'Times Online Sape' Competition 2021 Award Ceremony was a successful event. Light refreshments were served to the invited guests and a photo-taking session was held at the conclusion of the award ceremony.