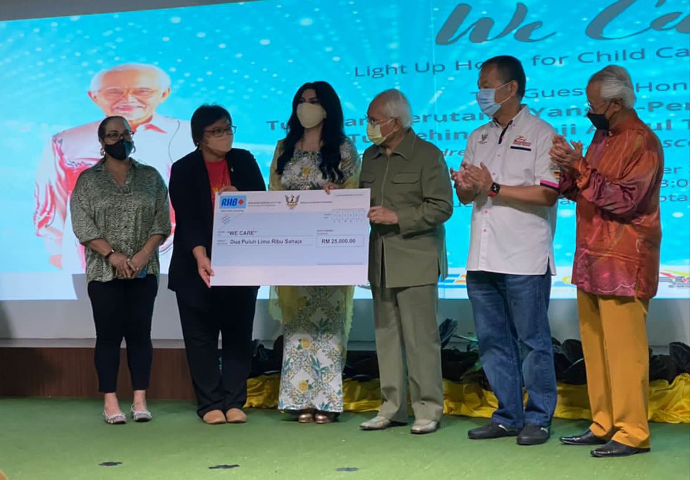 (Ceremonial Handing Over of the Mock-Cheque-Image taken from SEA Facebook page)
"We Care"
On 12 December 2021, the Sarawak Children's Cancer Society(SCCS) hosted a fundraiser at D-Virtual Park, Kota Samarahan from 10am to 3pm. Attending the opening ceremony was the guest of honour, Tuan Yang Terutama Yang di-Pertua Negeri Sarawak, Tun Pehin Sri Abdul Taib Mahmud and his wife, Yang Amat Berbahagia Toh Puan Datuk Patinggi Hajjah Raghad Kurdi Taib.
Organised by Sarawak Motorsports Association (SMA), also collaborating were the Sarawak Esport Association (SESA), Sarawak Dayak Graduate Association (SDGA), Sarawak Entrepreneur Association (SEA), D Arena Tech (M) Sdn Bhd, Startup Borneo, D Virtual Park and Serba Dinamik Digital Sdn Bhd.
SCCS Honorary Secretary, Ms. Mary Kiu Ai Ling delivered a speech about the importance of these charities, revealing the exorbitant costs of treatment and care that an individual cancer patient had to bear. Participants watched misty eyed as a mini-documentary sent the message home.
Each association sent representatives who shaved their heads on stage in conjunction with the GO BALD event, which is the main fund raiser for SCCS. It was a heart-warming and encouraging display of compassion and solidarity, as other participants showed up to do the same.
Also happening at the event was a Car Show, a FIFA charity e-sports tournament, and a host of virtual games throughout the venue. Excitement was high as it was the first physical charity event hosted by SCCS since the pandemic hit. The organising Chairperson, Yang Berbahagia Dato Ahmad Bin Dato Sri Ibrahim said in his speech that he hopes this would encourage youths to be compassionate and giving.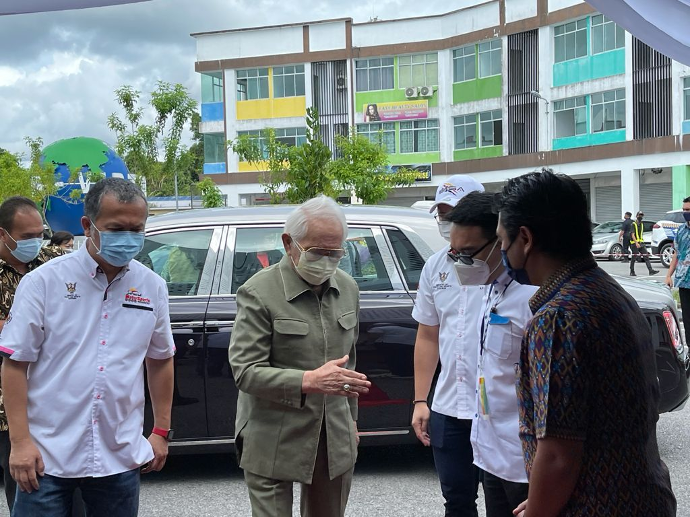 (Tuan Yang Terutama Yang di-Pertua Negeri Sarawak, Tun Pehin Sri Abdul Taib Mahmud Arrives at D-Virtual Park -Image taken from SEA Facebook page)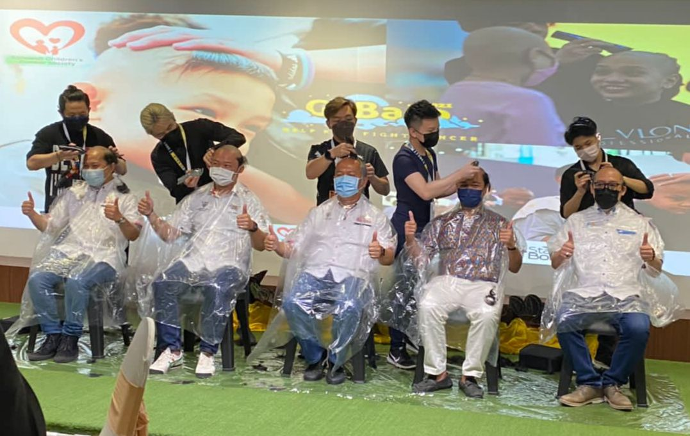 (Association Representatives Going Bald-Image taken from SEA Facebook page)