Sarawak, with her vast expanse of nature and rich culture, has been the forefront subject to her artists as this land serves as muse for many in our creative circle. Art has always been used as one of our means to promote Sarawak in order to attract tourists and locals alike, but at the same time serves as a creative outlet of sorts for our artists. That being said, art in Sarawak cannot be confined to only a few disciplines. In fact, Sarawak's art is so diverse that it extends to body art, fine art, dance, and even sculptures, just to name a few.  
For this write-up, we shall be focussing on fine art as this is one of the more common forms of Sarawak art that the public encounters. In fine art, artists often strive to incorporate a certain Sarawakian element or motif in order to make their pieces stand out. More often than not, subjects included could be just the curve of a midin plant, or our idyllic riverbanks, or even an indigenous pattern. However, fine art these days does not only cover traditional art involving the usual paint and paper but more recently also include large-scale murals.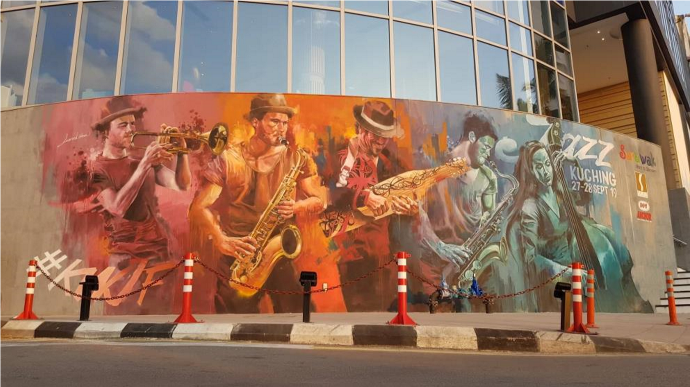 Figure 1: Mural in public space as means of advertisement in conjunction with Kuching Waterfront Jazz Festival 2019; photo copyright to the artist himself Leonard Siaw. 
The city of Kuching itself has seen several of these majestic large-scale murals along famous walking paths in city centre as well as lining up the walls of shopping malls. Interestingly enough, the younger generation of artists who are in charge of these large-scale pieces intentionally made some of these pieces in order to allow us to reminisce of our past and what Sarawak has gone through before.   
In comparison to Sarawak's art scene from at least twenty years ago, we have come a long way despite not having an actual art space to display the beauty created by our artists. Now, with the support from private collectors and from our very own Sarawak Artists' Society, we have several private galleries scattered across Kuching itself.