Gendang Pampat is the art of beating the traditional drums of the Ibans which is also known as ketebong. The ketebong is regarded as a sacred instrument and is usually made from a piece of cylindrical wood. The center is hollowed out with a smaller middle-section diameter compared to that of both ends of the wood, creating a cone shape at both extremities.
According to Marin Jiram, she was told that the skin of old ketebongs was obtained from wild animals like deer, monkeys or even monitor lizards. Nowadays, goatskin and many modern materials can be used and some people even use PVC instead of wood for the body.
In the Batang Rejang Zone, the Iban folks normally play Gendang Rayah, Gendang Betan, Gendang Pampat, and Gendang Kanto during ceremonial offerings or 'miring'. Performing the Gendang Pampat is an integral part of a ritual to summon the ancient gods, particularly among the Ibans, during the ceremonies. In the past during the warring days, the sounds of the drums were also used to raise the spirits of Iban warriors.
Gendang Pampat can be played in a group, usually of 4 players, and can go up to 11 players at one time with 11 drums. The Gendang Pampat involves creating harmonic sounds with the traditional drums by slapping the surface of the drum skin. Before each drumming session, a miring ceremony will be held. Gendang Pampat players will also be wearing their traditional outfits. For male players, they will be wearing "baju burung" or "baju perang" with a shield (terabai) and "parang ilang" on the waist to mimic the Iban warriors.
 This performance is normally done during Gawai Dayak festivals and there is an annual Gendang Pampat festival held in Melugu Sri Aman. There are also youth teams who are playing Gendang Pampat to continue the heritage and preserve the culture.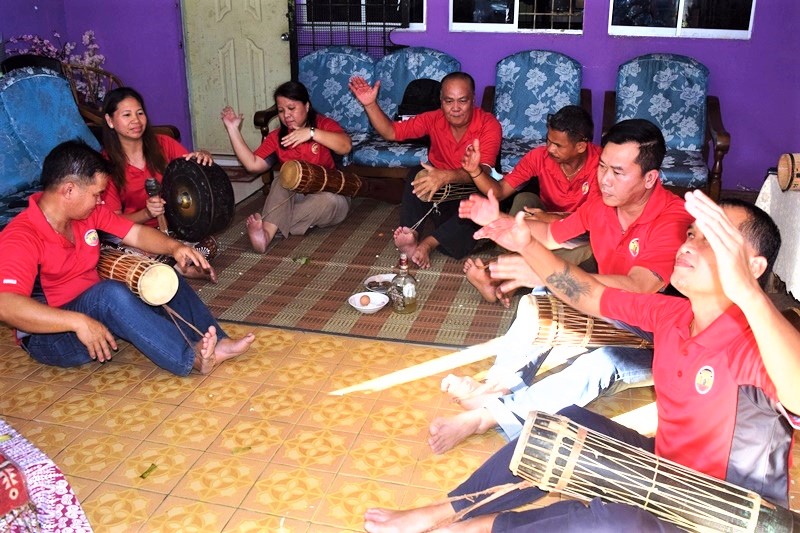 (Members playing Gendang Pampat-Image taken from newsarawaktribune.com)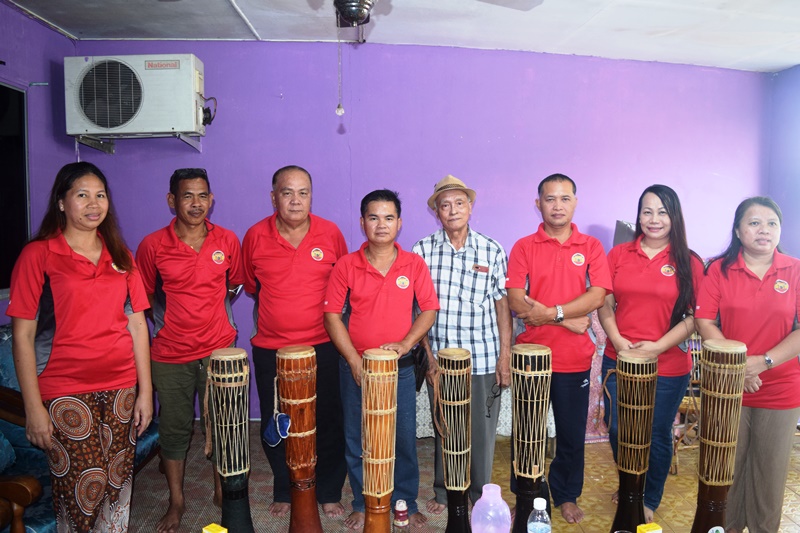 (Members playing Gendang Pampat-Image taken from utusansarawak.com)
References
News Desk, 2022. Keeping alive an Iban traditional drum art. New Sarawak Tribune. Retrieved from https://www.newsarawaktribune.com.my/keeping-alive-an-iban-traditional-drum-art/
Yi, C., 2020. Ketebong drummers keep a 'sacred' beat alive - Borneo Post Online. Retrieved from https://www.theborneopost.com/2020/01/19/ketebong-drummers-keep-a-sacred-beat-alive/#:~:text=The%20ketebong%20%E2%80%93%20sacred%20drums.,nibong%2C%20tapang%20and%20other%20hardwood.
Yi, C., 2019. Drumming up old Iban traditions and rituals - Borneo Post Online. Borneo Post Online. Retrieved from https://www.theborneopost.com/2019/08/04/drumming-up-old-iban-traditions-and-rituals/
Cikgu Emmet Menulis. 2022. Gendang Pampat: Paluan Perang Pahlawan Iban. Available at: https://cikguemmet.com/2017/05/gendang-pampat-paluan-perang-pahlawan-iban/