In this day and age, it is not surprising that we are transitioning to a digital environment in this day and age, especially with the technological boom. A new term, the "NFT", has emerged as a result of the recent growth and popularity of blockchain, notably in the art world.
A little background about NFT; NFT stands for non-fungible token and non-fungible essentially means that it is unique and cannot be changed with another object. An NFT is a digital asset that can only be owned digitally and exists entirely in that realm. Any digital file, including a piece of art, a document, or a piece of music, can be an NFT.
It is no surprise that Sarawak is also joining in the trend and recently NFTSWK organised the first NFT exhibition in Kuching in April. The exhibition, which was held in Think & Tink, featured both traditional and digital artwork. During this event, the ideas of "Duality in Arts" and "Unite in Arts" were intertwined. The dualism part demonstrated how there are two distinct worlds of art in existence today, and the unity part demonstrated coexistence, where no art is subpar.
There is also a game called "Flow" created by a local company, RezStudios which is still in the beta stage that is also related to NFT. The purpose of the game is as a response to the hectic pace of today's society, to give people a place to unwind. The gameplay is based on the idea that you can plunge into an uncharted path, adapt, grow, and ultimately transform by being like water. There is an opportunity for NFT collab according to the website to create animations and to mint the collaboration.
All in all, we are moving forward and keeping up with the NFT wave, and artists in Sarawak are definitely keeping their eyes open and jumping on it.
To check out the "Flow" game, feel free to visit their website here: https://www.flow-game.net/
To keep up to date about NFT in Sarawak, you can check out NFTSWK's Instagram page: https://www.instagram.com/nftswk/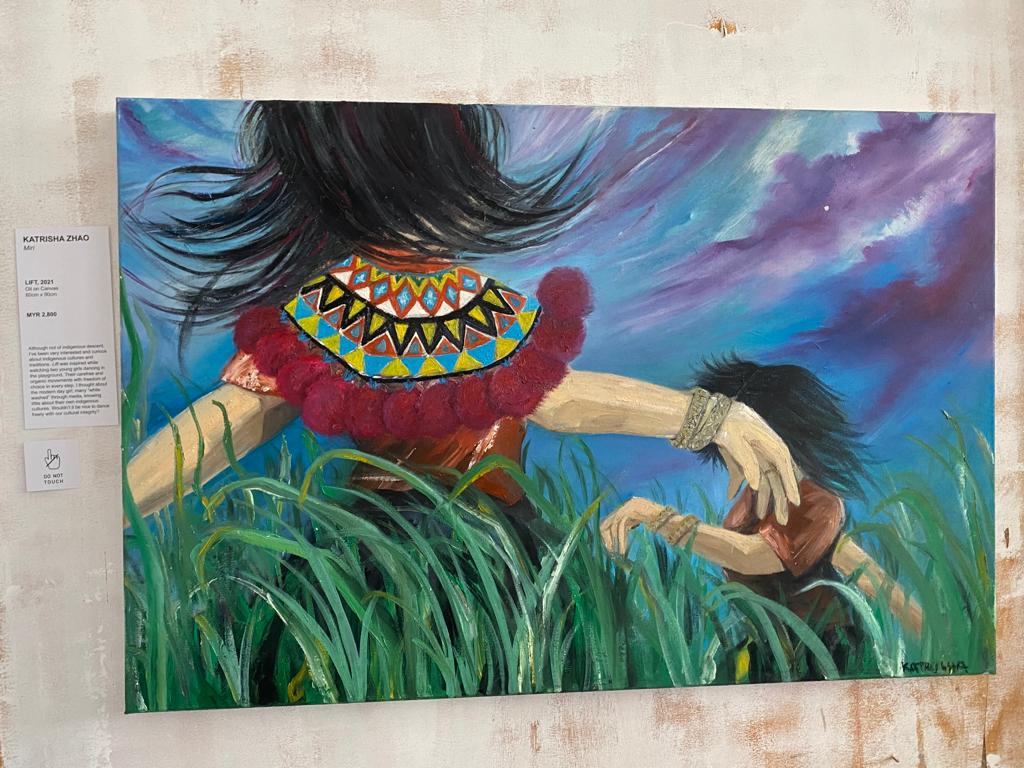 (The artwork displayed and for sell on NFT platform during the NFT exhibition – Image taken from NFTSWK Instagram page)
References
Clark, M. (2022). People are spending millions on NFTs. What? Why?. The Verge. Retrieved from https://www.theverge.com/22310188/nft-explainer-what-is-blockchain-crypto-art-faq.
Fitzsimons, E. (2021). NFT art: what is it, how it works and what it means for the creative industry - 99designs. 99designs. Retrieved from https://99designs.com/blog/web-digital/nft-art/.
Khaw, C. (2022). NFTs in M'sia this week: Upcoming blockchain fest supported by a Kuching-based NFT platform. Vulcan Post. Retrieved from https://vulcanpost.com/785080/nft-news-malaysia-kuching-exhibition-blockfest/.
Jee, N., & Lorna, A. (2022). New age marketplace beckons artists with control. New Sarawak Tribune. Retrieved from https://www.newsarawaktribune.com.my/new-age-marketplace-beckons-artists-with-control/.