The term Songket Rajang refers to Kampung Rajang, Sarawak, the area where the songket was first made. Kampung Rajang is where one of the first Melanau communities were established near the Sungai Rajang.
Songket Rajang made in Sarawak differs from songket made in Terengganu and Kelantan on the east coast because it uses a hidden thread technique. The hidden thread technique enables the finished songket to be worn on both sides without revealing the tangled weaving threads underneath and the pattern is the same on both sides. In addition, Songket Rajang was well known for the patterns and motifs that are woven into the songket; these patterns and motifs were greatly influenced by Borneo's culture and local traditional themes, which further merged the craft with the local way of life.
There are eight steps to the weaving procedure and in accordance with the weaver's actual method, starting with melonseng, then moving on to menganing, menggulung benang, mengisi gigi jentera, mengarap, mengangkat butang bunga, menyongket bunga, and finally menenun.
While Sarawak songket, Terengganu songket, and Kelantan songket all share a similar weaving process, Saanah Suhaili, who is chairman of the Rajang Songket Weaving Group stated that her weavers employ a unique 30-sifir multiplication formula that she and another songket weaver, Dayang Norsalam Pengiran Parsih, developed in 1993. The formula mainly concerns counting the number of threads utilised and serves as the basis for both the designs for the motifs on the songket fabric and the hidden thread technique.
In order to maintain Songket Rajang's exclusivity, it is not produced commercially but rather on demand. Therefore, customers are assured that the designs on their songket will not be found on anyone else's. Due to the precision required, special orders utilising exclusive designs may take six to seven months to execute and could be quite expensive.
The weaving of Songket Rajang is indeed an art form to be appreciated and is a cultural heritage and identity for Sarawak.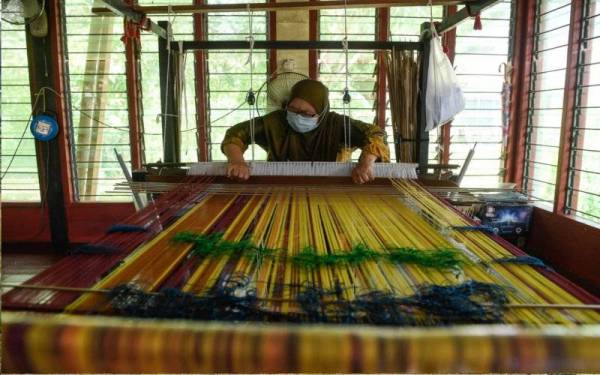 (Songket Rajang - Image taken from sinarharian.com.my)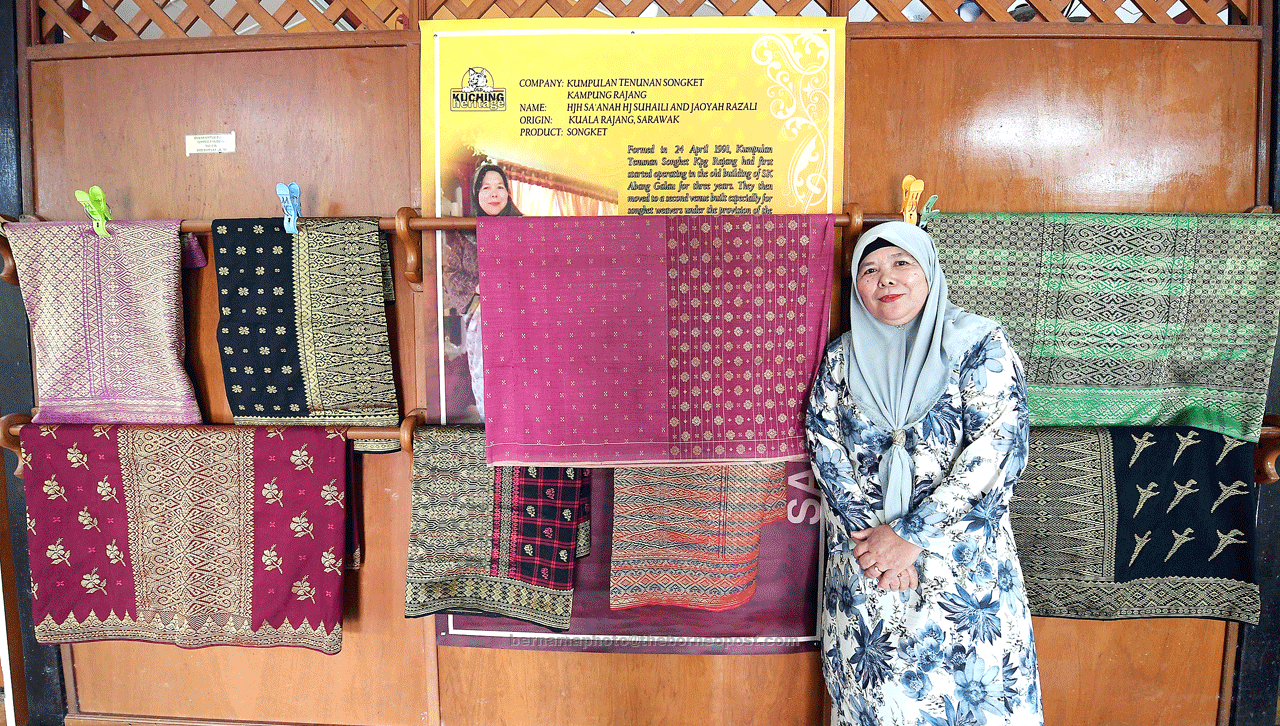 (Songket Rajang - Image taken from theborneopost.com)

References
Chow, Y. W., Jusam, A., Mohd Rafee, Y., Abol Hassan, M. Z., & Awang Arshad, A.
H. (2021). Retroprospective of Songket: A Visual Ethnography Documentation on Songket Rajang. KUPAS SENI: Jurnal Seni Dan Pendidikan Seni, 9(2), 26-41. https://doi.org/10.37134/kupasseni.vol9.2.3.2021
Meneruskan kegemilangan songket Rajang di Sarawak. Sinar Harian. (2021). Retrieved from https://www.sinarharian.com.my/article/171348/edisi/meneruskan-kegemilangan-songket-rajang-di-sarawak.
NewsDesk (2019). Rajang holds the secret of Sarawak songket. New Sarawak Tribune. Retrieved  from https://www.newsarawaktribune.com.my/rajang-holds-the-secret-of-sarawak-songket/.
Unveiling 'make-up' secrets of Sarawak songket - Borneo Post Online. Borneo Post Online. (2019). Retrieved from https://www.theborneopost.com/2019/06/04/unveiling-make-up-secrets-of-sarawak-songket/.